Think about tomorrow now!
Riding tournaments are now taking place again and the existing horse toupee is used or a new one is required. Provided that the appropriate hygiene measures are in place, we can now work for you locally on site.
By means of a wellness cure including cleaning and care, we will make your horse toupees shine for the next use, or we would be happy to make a completely new toupee for your horse.
The price is agreed upon after review or agreement. If necessary, please use our on-site service.
We are happy to answer any questions you may have, stay healthy!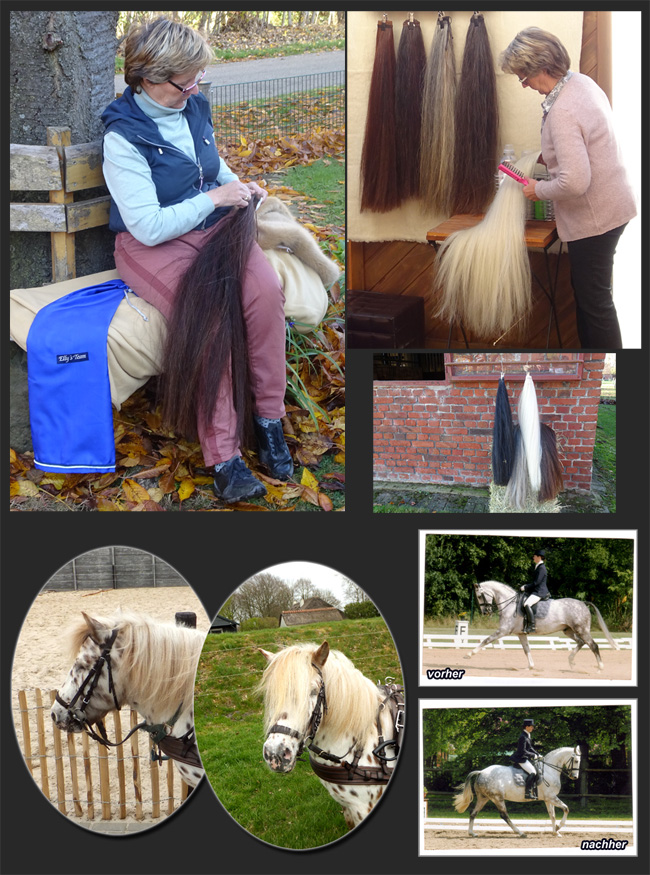 ---
Welcome to Elly's Team – Your horse is our friend!
As a young woman I have always aspired to be a stablehand or a professional horse rider, however life led me towards toupee manufacturing.

I have always been fascinated by horses' presence and charm. Therefore, I feel honored to be able to restore their expression and charm through various custom hair extension techniques.

Our Motto:
Tail-toupees – practically magic and every time a small miracle.

Horse's tail is it's trademark and that's why every toupee we produce is specifically custom made for your horse with taking the horses' appearance and preference into consideration.

It is always a pleasure to receive the following feedback from our customers:

"It is such a thrill seeing our horse with such a beautiful handmade tail. Thank you so much!"